A
1959 Eureka Cadillac 54" Hi-Top Ambulance
is the vehicle
Homer
buys in
Diatribe of a Mad Housewife
. It looks like it is in good condition but Boris claimed that it is really worn-out with only the siren working, though Homer still buys it, as he heard the siren scream "BUY ME".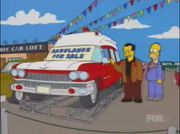 It later was crashed into the sea and became a fish habitat.
Ad blocker interference detected!
Wikia is a free-to-use site that makes money from advertising. We have a modified experience for viewers using ad blockers

Wikia is not accessible if you've made further modifications. Remove the custom ad blocker rule(s) and the page will load as expected.