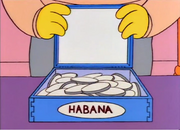 1918 liberty-head silver dollars are a type of coin.
History
Abraham Simpson left a box of these coins in mint condition to the Simpson family when he decided to give everyone their inheritance early. Grampa said that when he was young, rich men would ride about in zeppelins and drop coins on people. After he saw J. D. Rockefeller fly by, he ran out of his house with a big washtub to collect the coins.
Appearances
Ad blocker interference detected!
Wikia is a free-to-use site that makes money from advertising. We have a modified experience for viewers using ad blockers

Wikia is not accessible if you've made further modifications. Remove the custom ad blocker rule(s) and the page will load as expected.